JUST LACE CLOSURES (Natural Wave & Deep Wave Curl)
$

99.00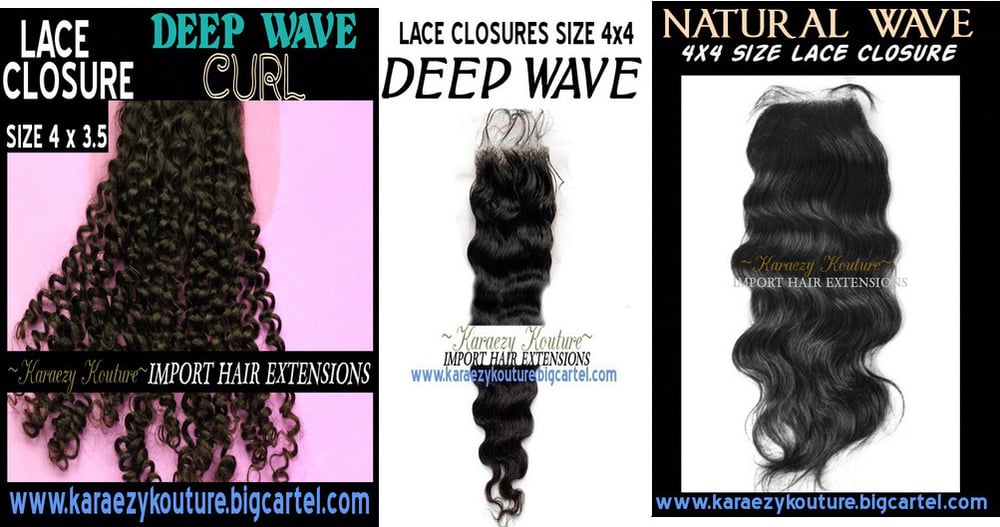 Our textured lace closures are available here for purchase in "NATURAL WAVE" and DEEP WAVE CURL,. All closures offered by Karaezy Kouture Import Hair Extensions are assumed to be in standard stock size of 4x4 or 4x3.5 unless noted otherwise. All closures are made of 100% unprocessed virgin hair in it's natural color and can be dyed, bleached, curled, and/or straightened. Closures are made of durable transparent lace with freestyle parting.
***(((Baby hairs will vary per type of closure, some will or may have very little to no baby hairs at all and others may have a few. Since closures are composed of real unprocessed virgin hair, baby hair density and presence on lace closures cannot be predetermined or guaranteed in advance. If you do not like the baby hairs simply blend them with the rest of the hair after install or remove by lightly tweezing them during the customization process. This should be left to be done by experienced professionals only so that the lace is not damaged during your install as we are not responsible for damage to closures as a result of amateur or incorrect care and install procedures)))***
All current Curly and Wavy Lace Closures listed here are approximately size 4x4 or size 4x3.5 and come with light brown transparent lace and unbleached knots. Knots bleach easy and when done correctly allowing you to fully customize your install to preference for a completely natural look. Length availability and price per length is listed in purchase selection drop box below. These closures are ideal for closing multiple different install techniques. Care for them as you would your virgin weft extensions and real hair taking special care to avoid tearing or damaging the delicate lace base of the closure unit.
>>>*NOTE: LACE CLOSURES ARE AVAILABLE IN MATCHING/COORDINATING TEXTURES AND CURL PATTERNS FOR ALL WEFT HAIR EXTENSIONS PLEASE BE SURE TO PAY ATTENTION TO MAKE SURE YOU ARE SELECTING THE PROPER CLOSURE YOU DESIRE AND BE SURE TO SELECT THE PROPER MATCHING CLOSURE TO MATCH THE VIRGIN HAIR EXTENSION BUNDLES YOU ARE PURCHASING IF YOU ARE PURCHASING YOUR BUNDLES AND CLOSURE TOGETHER. ALSO PLEASE REMEMBER THE CLOSURES ARE MADE OF VIRGIN UNPROCESSED HAIR AS WELL SO CLOSURE CURL PATTERN NATURAL COLORS AND VARIATIONS WILL VARY AND PICTURES ARE JUST FOR REFERENCE. THE ACTUAL ITEM YOU WILL RECEIVE COULD HAVE SLIGHT AND MINOR TEXTURE AND CURL PATTERN VARIATION BUT WILL BLEND WITH ALL OF OUR OFFERED HAIR OPTIONS* WE DO NOT GIVE GUARANTEES FOR ANY CLOSURE BLENDING WITH ANY OTHER HAIRS OTHER THAN OUR OWN. YOU WILL BE PURCHASING AND BLENDING AT YOUR OWN RISK WITH OTHER BRAND HAIRS AND WE CANNOT AND WILL BE HELD RESPONSIBLE IF YOU PURCHASE A CLOSURE THAT DOES NOT BLEND WITH HAIRS OUTSIDE OF OUR OWN***
***ALL STORE PURCHASE POLICIES, AND NORMAL ORDER PROCESSING, SHIPPING, AND ARRIVAL TIMES APPLY TO SINGLE CLOSURE PURCHASES THE SAME AS WHEN PURCHASED WITH WEFT EXTENSIONS.***
~ Please submit any inquiries along with any questions or concerns NOT COVERED ELSEWHERE ON THE WEBSITE WITHIN THE TABS ALONG THE TOP AND BOTTOM OF THE PRODUCTS HOMEPAGE PRIOR by contacting us in advance here via the website contact BEFORE completing any sales transactions. We will be MORE THAN HAPPY TO ANSWER ANY QUESTIONS AND ASSIST YOU IN ANY POSSIBLE WAY INCLUDING BUT NOT LIMITED TO REDIRECTING YOU TO WHERE THE INFORMATION CAN BE FOUND RIGHT HERE ON OUR DETAILED INFORMATIVE WEBSITE!
*****PLEASE SEE OUR COMPLETE DETAILED SALES TERMS AND CONDITIONS FOR STORE POLICIES AND PROCEDURES BY CLICKING THE TABS THAT READ ORDER PROCESSING AND SHIPPING AND FREQUENTLY ASKED QUESTIONS AT THE TOP AND BOTTOM OF THE HOMEPAGE.
***SAVE MONEY AND GET A BETTER VALUE BY PURCHASING ONE OF THE BUNDLE DEAL$! THIS GUARANTEES ENOUGH HAIR FOR YOUR INSTALL IN YOUR LENGTH VARIATION RANGE***